---
This HAWT (horizontal axis wind turbine) will produce up to 3 kW or more at 30 mph, and has an air core axial flux pmg to eliminate resistance from the 'cogging' effect that's produced in other turbines with conventional steel core stators. The pmg consists of two stators and four magnet rotors. The stators have 12 coils each. The magnet rotors are 1/4" x 12" dia. steel, and have 16 N50 grade 2"x1"x0.5" neodymium magnets bolted to each. The rotor has 72" long wood/fiberglass blades, giving a total rotor diameter of 12'. They were designed with the SD7032 airfoil profile for a TSR of 7 using
BEMT
.
When installed properly in areas with an average annual wind speed of 11 mph (5 mps) or higher, this turbine can produce ~500 kWh+ per month.
---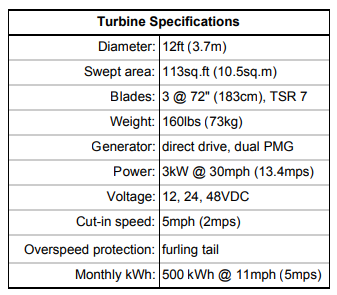 ---
Download The Turbine Plans
Files included with purchase:
​Tool & material list, step by step instructions, & dimensional drawings (.pdf)
3D Google Sketchup CAD model ​(.skp)
​(
Google Sketchup
is required to view the CAD)
DISCLAIMER: This is a prototype. By purchasing the plans, building and using this prototype as your own for personal or commercial use, you are assuming all responsibility related to that use (resale of the plans is forbidden). Please be safe, and follow all local building & electrical codes & regulations.
​
Please read these
download instructions
before purchasing
​
Price: $10.00
(CAD)